By Brett Ellis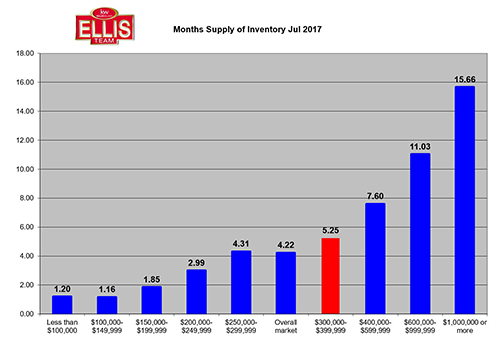 While pulling data for the latest monthly supply of inventory we noticed some increases in buying activity in certain price ranges. Today we thought we'd bring you the latest monthly supply numbers and answer what price ranges are hot in SW Florida real estate market.
The overall months' supply of homes on the market today stands at 4.2 months. 5.5 months' supply is considered a balanced market, so overall, we're in a seller's market. However, as we all know, there are segments in the market and supply changes by price range.
Obviously by looking at the chart, anything $250k or under is the sweet spot for this market. However, anything up to $400k isn't too bad either. So where did we see a pickup in home sales since we last published this report?
What Price Ranges Are Hot in SW Florida Real Estate?
We saw a nice gain in sales in the $200-250 range. For the past 365 days there were 2,177 sales compared to a rolling 365 day count back in April of 2,059. That's a pickup of 118 sales in a 3-month period. The overall market saw a pickup of just 6 homes. …read more
Source:: Top Agent