By Brett Ellis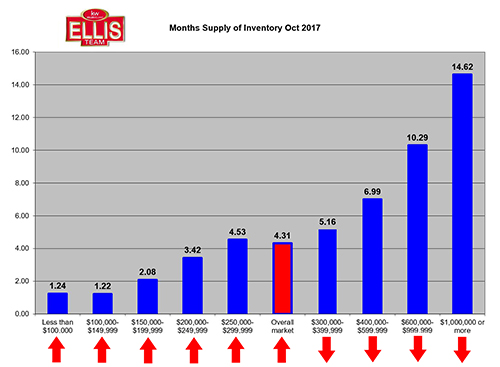 Most people tend to believe the lower end is always the strongest segment of the real estate market. If you looked at the October Months' Supply of Inventory you would agree. The months' supply graph is a snapshot in time, so we added a little something to it this month. Upper end homes leading the SW Florida real estate market.
What if you looked at the change in direction from our previous snapshot in July? Would that change your opinion? Static data paints a picture and changes in direction tells a story. The changes are not huge numbers. For instance, the $Million+ went from 15.66 months in July down to 14.62 months in October.
Each price point above $300,000 saw a reduction. Each price point below $300,000 saw an increase in months' supply. Many times, we see a price range here and there flip, so it stood out to us when we saw such a shift up to a point certain.
Upper End Homes Leading the SW Florida Real Estate Market
So, what does all this tell us? Perhaps a lot, and perhaps not much. It tells us we should keep an eye on …read more
Source:: Top Agent