By Brett Ellis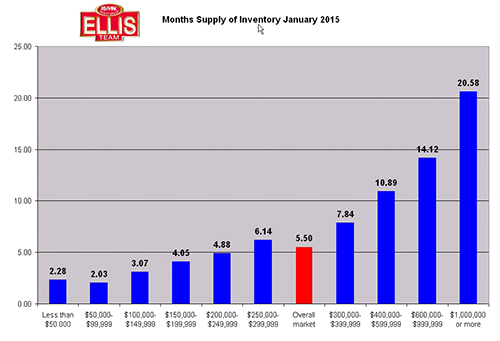 We've been talking about price increases and low inventory for months, so this week we thought we'd revisit some data and provide an update on inventory supply in SW Florida.
Back in January we analyzed the supply of inventory and compared it to May of 2014. Since January there have been some changes. All price ranges of inventory supply fell except one.
The $600,000 to 1 Million range actually increased from a 14.12 month supply back in January to a 16.64 month supply today.
The overall market stands at 4.52 months compared to 5.5 months back in January. Anything less than 6 months is considered a seller's market and the overall market certainly qualifies for that. In fact, anything up to about $400,000 is a sellers market and up to about $600,000 is a neutral market. Once you start getting up over $600,000 there's more competition for the buyers as there are less buyers and more inventory available.
For instance, back in January there were 579 homes on the market priced between $600k-$1 Million. Today there are 807. That's a 39.38% jump in inventory. Thankfully we had 90 more sales in the past year in …read more
Source:: Top Agent