By Brett Ellis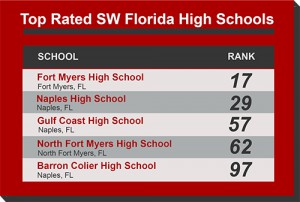 While selling real estate is a complicated process with lots of details, selling blue skies and sunshine is easy, especially to our Northern friends who have been buried by another brutal winter.
One question that we get asked a lot by people relocating to SW Florida is what are the schools like? People are deeply concerned about the quality of education their children will receive, and about their resale value. Up North, the school district may be the largest determinant of their neighborhood's value.
Top Rated SW Florida High Schools
People are happy to learn that SW Florida does very well in the state of Florida. In fact, a new study came out from Niche that ranks the top public high schools in Florida. Niche also ranks colleges, private schools, and elementary and middle schools.
Many people know that Fort Myers High School has consistently ranked in Newsweek's Top 100 High Schools in America and that in 2008 Fort Myers High School awarded the most I.B (International Baccalaureate) diplomas in North America and was #8 in 2011.
What many may not realize is Fort Myers High School isn't the only top high school in SW Florida. In fact, there are …read more
Source:: Top Agent