By Brett Ellis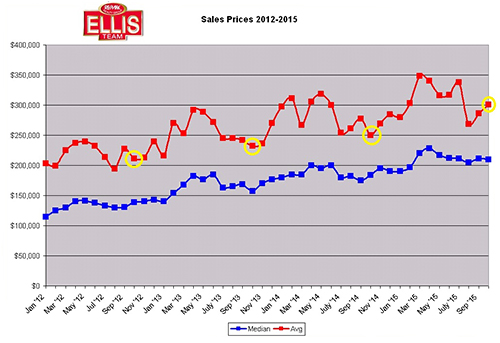 Average sales prices rose 20.4% in Lee County while median sales prices rose 14.0% in October over last year's numbers. This tells us there is some strength in the higher end of the market pulling the average figures higher.
If we dig a little deeper we notice that average sales prices don't usually bump up until December. In 2015 we started seeing the climb in September, about 2 months earlier. The average numbers are a little more pronounced and help identify the trend in the median numbers when they occur over time.
SW Florida Real Estate Prices Rise as Does Inventory
We've also been telling readers that listing inventory has been down, and this has led to a rise in prices. We know from history that inventory begins rising about October, and this year kept the trend.
Listings rose over September 8.13%, however they fell 10.3% from last year's numbers. So we're seeing the typical rise in inventory we usually see this time of year, however the bar is lower and listings are down from last year.
What does this tell us? The SW Florida real estate market should be in for a good ride. Of course, …read more
Source:: Top Agent