By Brett Ellis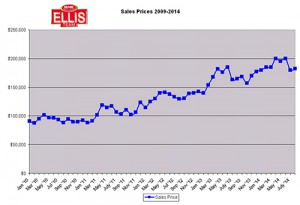 August Home Sales Report Shows SW Florida Real Estate Market is Healthy
Initial August home sales numbers were just released by Florida Realtors and it reveals some encouraging yet predictable figures.
Single family home sales in Lee County Florida showed a median price increase of 10.6% over last year to $182,500, while the average sales price was up 6.3% to $261,011 The median price was up from July $179,900. If you'll notice last year prices began rising again in August as well. There is seasonality in the SW Florida real estate market and the graphs help illustrate how this works.
Listing inventory is also down this year with only 4,890 single family homes on the market. Last year there were 4,997 so inventory is going down. You can see from the total inventory graph that there is always a dip in inventory this time of year.
Making predictions is easy if you have lots of historical data to look at and graphs. We always have to look at external factors that could influence the market going forward and combine that with market data. If no new external forces were influencing the market, where would you predict inventory levels …read more
Source:: Top Agent