By Brett Ellis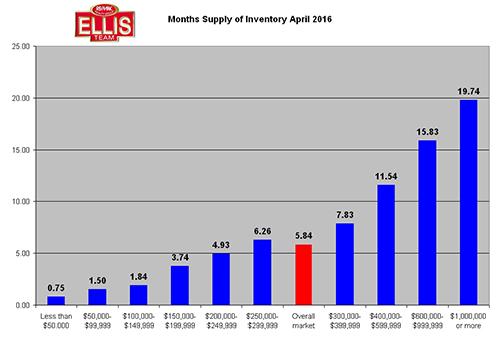 Back in February we posted real estate inventory levels for SW Florida and reported a fairly stable inventory market. Back in January the market was strong, but since then agents have complained about a shift in the market. Properties are selling. We've got a great market, however there have been some changes the last few months so we'll bring you up to speed.
SW Florida Post Season Real Estate Inventory Levels April 2016
Almost all categories have increased in the past few months with 2 exceptions. The below $50,000 range and the $400,000-$600,000 range. The change below $50,000 is so small and there are so few properties involved it's not worth talking about. The $400-600k range is a bright spot. Active listings went down in this range and closed sales have increased.
In the past year we've had 1,254 sales in the $400-600k range. Back in February we only had 1,093, so that's helped lead to a decrease in supply of inventory. There were 1,271 on the market back in February and 1,206 now, so most of the change has to do with increased sales.
Overall the market has increased to a 5.84 …read more
Source:: Top Agent