By Brett Ellis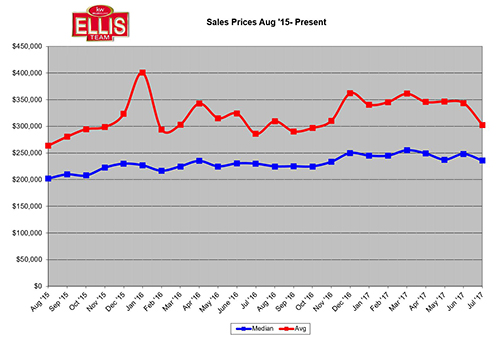 This past week agents have been calling us asking how we see the local SW Florida real estate market. Agents are complaining that their closings are down in August. This was predictable because recently released data shows SW Florida pending real estate inventory dropped 9.6% in July. July pendings are an indicator of what will close in August and September.
We saw a dip in average and median sales prices in July from June, however median prices were up 2.5% over last July 2016 and average prices were up 5.9%.
All year we've been tracking homes closed and we've said it's been tracking between 2015-2016 numbers. 2016 closed sales were down against 2015. We are close to tracking down against 2016, and if this occurs we'll keep an eye out for potential changes in the market.
Last year, as evidenced by the graph, sales numbers increased in August, so if July's pending inventory is an indicator, we might not reach those levels. The Ellis Team has sold some quick close cash deals that went pending in mid-August and are scheduled to close at end of August that might add to the July pendings and …read more
Source:: Top Agent