By Brett Ellis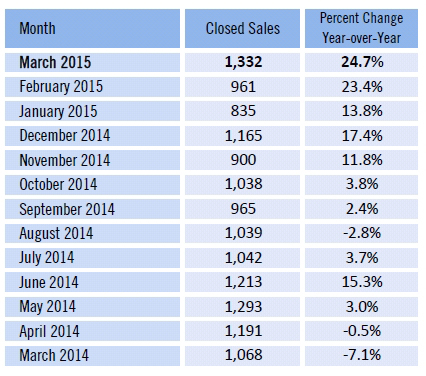 Southwest Florida Real Estate Market is Heating Up. Closed sales in March were up 24.7% over last year despite lower inventory levels. Single family inventory levels were down 9.8% and yet we saw a big jump in closed sales.
We're tracking pending sales and they're also up 7.9% which means closed sales in the coming months should also be strong. So what is different this year in 2015 versus last year?
Money has really come into the market. If you've been reading this column the past several years we've been telling people our market is healing, but it won't be fully healed until money and capital fully return to the market. For many years cash sales drove this market at the bottom of the market.
Investors and people with money were able to take advantage of a depressed market. We had a market that was artificially too low and was below replacement cost. The builders couldn't build at a loss.
This is all changing now and we've entered a new growth stage of the market. Lenders have begun to lend again and this is what ultimately fuels a market. When you only have cash …read more
Source:: Top Agent