By Brett Ellis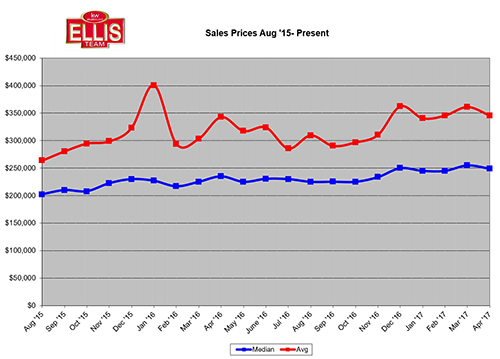 Southwest Florida real estate home prices increased 6% in April up to $249,000. Median home prices had been $235,000 last April. However, while the median price saw a rise, the average sale price only increased .9% over last year.
As you can see from the graph, in 2016 April's numbers increased over March. That didn't happen this year. The median price actually slipped $6,000 this April from March and the average sale price fell almost $15,000.
Pending inventory is down 10.1% and new pending sales were down 5.1%. Active listings were up 4.6% although new listings were down 10.1%.
What does all this data mean for the Southwest Florida real estate home market? We believe home prices have risen enough such that we're in a fairly balanced market. Our market is no longer rising because it had over-corrected and was undervalued. Standard economic forces will be the driving factor going forward. As we write this article today the Fed's decision has not been announced. It is widely expected they may raise rates .25% this week which would affect car loans and equity lines. It may or may not affect 30 yr mortgage …read more
Source:: Top Agent