By Brett Ellis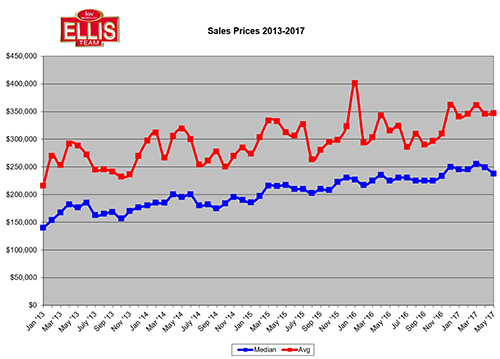 That's correct. Your eyes aren't deceiving you. Southwest Florida home prices rose $100,000 since 2013. We could end the story right there, and it would be a beautiful story. As you know, there's always more to the story.
We really like where this market is right now. We would say it is fully valued. By that we do not mean it's headed down. Our market is balanced. It's not all the way back for some homes and for others perhaps it is. We do not see signs of distress we saw back in late 2005 that caused us concern.
Inventory across the US is down. Inventory in Southwest Florida went down in May to 5,369 homes. This was down from 5,719 in April. The number of closed homes is slightly lagging 2015 and 2016. This is partly because of limited inventory and partly because home prices have risen so much. Inventory was down the last few years as well, so we can't attribute it to that.
Lower prices means more people can afford to purchase. Let's look back since 2013. As you can see by the graph, …read more
Source:: Top Agent