By Brett Ellis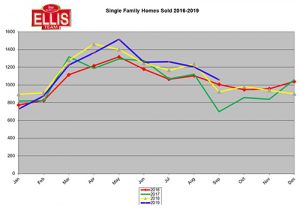 A few weeks ago, we reported that August pending sales were up in August. We stated that this could lead to a rise in sales in the months following. We're happy to announce that September home sales rose 14.8%. Furthermore, September new pending sales are up 19.6%, so you know what that means don't you? We could see further home sale gains in the coming months.
September Home Sales Rose
Ironically, we hear of agents complaining their sales are down. If an agent's sales are down and the market is up, it means someone else is taking market share. We've been saying all year that certain agents are going to be vulnerable because the way you advertise and obtain leads today is different than it was 1 year ago.
It's possible that successful agents doing the same thing get run out of business unless they change to the new way of doing things. You can be the greatest agent in the world, but if you can't attract leads like you once did your sales could plummet. Sellers need to be mindful who they're listing with now because it matters. Gone are the days of …read more
Source:: Top Agent