By Brett Ellis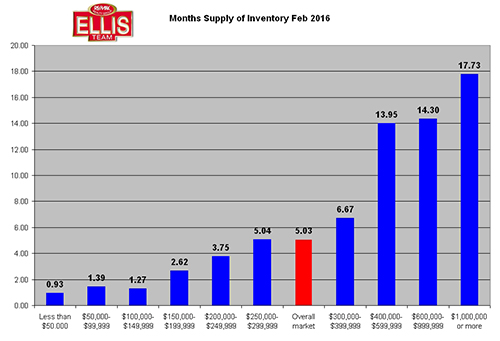 The past few weeks we've released data on the SW Florida real estate market showing a pretty healthy market. We have noticed a shift in buyer attitudes the past several weeks and those can be a blip on the map or the start of a trend. Late Season always provides the answers to that, so we won't be able to track for several more weeks.
What we can track among other things is the Months Supply of Inventory. We've provided the graph from last year showing the overall single family market at a supply of 5.5 months. Anything less than 6 months is considered a seller's market. A balanced market is generally a 6-9 months supply of homes on the market.
In 2016 we're looking at a 5.03 months supply of homes on the market, so it's more of a seller's market today than it was last year. Almost all categories improved except for a few. The $400,000-$700,000 market went from 10.89 months last year to 13.95 months this year. The $600k-$1 Million market went up as well, but ever so slightly from 14.12 months to 14.30 months.
Real Estate Inventory Levels Stable in SW Florida
Overall we'd say these are pretty stable …read more
Source:: Top Agent