By Brett Ellis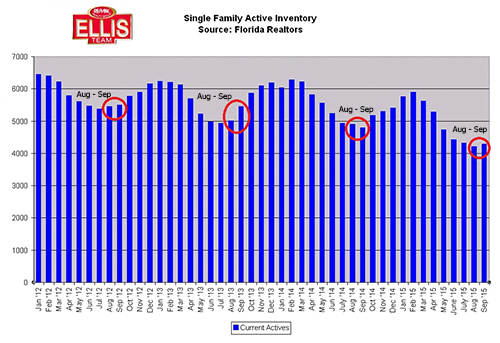 The SW Florida real estate market has been a steady as she goes type of market through 2015 with mostly upward price gains, falling inventory, and higher pending sales than last year. This changed in September as pending sales fell for the first time to below 2014 levels.
Median sale prices have been up over 2014 all year, and September saw this largest yearly gain for the year at a 20.9% increase in median price. Average price tells a different story. We've had three negative months this year compared to last, and we've had two months (March and July) with average prices up over 30%. For the most part average sale prices have been more tempered though.
New Pending Sales in SW Florida Fall Slightly in September
New listings in September increased over August by 59 homes but were down 6 homes from last year. So if new listing inventory fell by 6 homes this September versus last year, how is it that inventory actually rose in September versus August?
Some pending deals must have fallen out combined with fewer new pending sales in September would explain it. We would have thought with new Federal lending laws going …read more
Source:: Top Agent