By Brett Ellis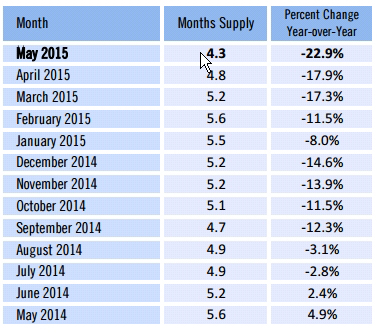 Sellers, listen up! You've probably heard Realtors state over the years "This is the Best Time to Buy" or "This is the Best Time to Sell". There may have been truth to that, but never more so than right now.
Months Supply of Inventory Dips Drastically
Inventory levels have dropped to their lowest level since we began tracking inventory with a new system in 2012. We're down to 4,712 single family homes on the market in Lee County and this brings us to a new low in Months Supply of Inventory, down to just 4.3 months. That is a 22.9% drop in months supply from last year and a 14.9% drop in number of listings compared to last year.
If I were to tell you new pending sales were up 5.6% and May closings were up 1.2% you might wonder how that could be if inventory levels were falling drastically.
It's all true. Sales are out-pacing new listings. Closings are up and it's driving the supply of available inventory down. Median sale prices are up 11.4% in May while average sale prices fell by .8%. This tells us that the bottom of the market is coming …read more
Source:: Top Agent