By Brett Ellis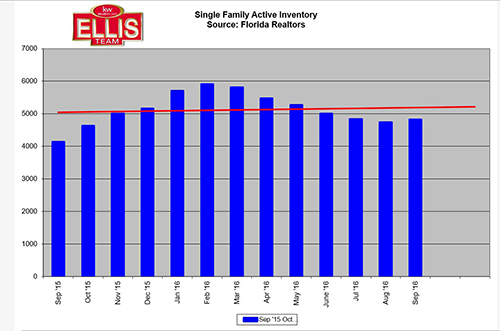 The last few weeks we've been bringing readers up to speed on prices and where they're headed as well as closings for 2016. This week we decided to focus on listings. We've been reporting that listing inventory rises slightly for months and here is the latest graph to illustrate that.
Listing inventory is seasonal. For some reason, more sellers decide to list in season than other times. I don't know if they perceive there are more buyers here in season or perhaps they come back to SW Florida and decide to list. For whatever reason is does go up in season which makes using the trend line a little complicated.
We did add the trend line which does show a rise in inventory going forward. Year over year numbers are up each month so this is accurate. The real question is going to be, with slowing sales, rising rates, and stagnant home prices, what will happen in 2017?
Listing Inventory Rises Slightly
The amount of inventory in 2017 will most likely affect home prices as much as interest rates do. We've seen rising prices up until this year partly because listing inventory has been so low …read more
Source:: Top Agent