By Brett Ellis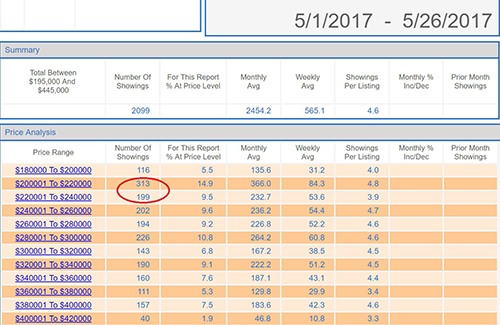 Agents have been calling us asking if showings are down. The answer always is some listings seem to receive more showings than others and it depends on your inventory mix at the time. It is an interesting question though, so we did a little digging into the latest Southwest Florida showing activity in MLS.
CSS (Centralized Showing Service) is the predominant showing system used by Realtors across Southwest Florida. We have reports and statistics we can search on using their system to glean information about showing activity. This data can be useful to Realtors and sellers alike.
Here are two examples. We tracked showing activity in the Fort Myers area for May by price range. The average listing from $195,000-$400,000 saw 4.6 showings. That's roughly one per week. Look at the $220,000 price range. Having a home listed at $220,000 rather than $225,000 saw a 57.29% increase in showings. This tells us that is a price sensitive segment, and over pricing by just a dollar can cost a seller some showings.
Our next example tracked the same zip codes in the $400,000-$600,00 range. We wanted to see if there was …read more
Source:: Top Agent