By Brett Ellis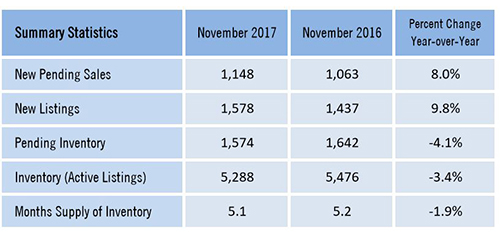 Welcome to the New Year. Let's look at some things we're watching this New Year in our January 2018 Southwest Florida real estate market update.
Many agents we talk to are focusing on the fact that sales are down 12.4% in November. Others notice that total dollar volume was down 10.5% in November. Those are two data points we also look to gauge the overall health of the market, but it must be done in context.
January 2018 Southwest Florida Real Estate Market Update
We're choosing to look at other data points right now and we'll explain why. New pending sales are up 8.1%. That bodes well for closed sales heading into season. New listings rose 9.8% in November over last year. One could argue that sales have been riding even or ahead of last year, but down from 2016 levels is the fact that inventory has been low. We've had a low inventory market for the past few years. It is slightly rising now and that may be a good sign.
This gives home buyers more choices. It also signals home sellers that have failed to sell that it's time to re-evaluate their price. …read more
Source:: Top Agent