By Brett Ellis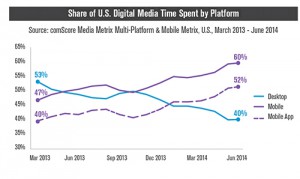 Circle the date. April 21, 2015 things are going to change in a significant way. These are the words directly from Google. We're talking about Mobilegeddon, and whether you're a real estate agent, business owner, or consumer, you will be affected on April 21. So we ask the question, is SW Florida ready for mobilegeddon?
Since 2013 I've been speaking to agents nationwide about the importance of having a mobile friendly website. Google has stated how important mobile is and they do not want to rank websites high if the consumer doesn't have a good experience on their mobile device when they get there.
Last year we told readers that consumers were spending more time on the web from their mobile then they were on their desktop computer. ComScore data proves this out, and many webmasters who view their logs will tell you mobile is more popular now than desktop.
The problem is, many websites are not setup to handle mobile visitors properly. Portent recently crawled 25,000 sites and found that 40% of those sites were not mobile friendly.
If you're on your mobile device you can do a search in Google and it will return results. It will say if …read more
Source:: Top Agent