By Brett Ellis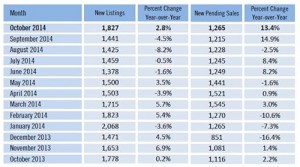 We've often said in recent years if we had more inventory we'd have more sales. We don't have a sales problem, we have an available amount of appropriately priced homes problem. Well, here comes the listings here comes the sales.
We need look no further than this month's data that was just released. New listings in October were up almost 400 over September and were up 2.8% over new listings last year. New pending sales were up 13.4% over last year which says that inventory is selling at a faster rate this year.
You'll notice 1,827 listings entered the market and 1,265 went pending. Not all homes are selling. Even though we have a low inventory market, there are still sellers who overprice their home for the market.
Selling a home is not a guaranteed thing, and it's not easy. It takes a seasoned expert to price it correctly and navigate all the obstacles thrown our way via new regulations and lending policies.
From inspections, insurance, appraisals, flood insurance, lending regulations, estoppels, to title, real estate has never been more complicated.
It's one thing to find a buyer for your home; it's quite another to …read more
Source:: Top Agent