By Brett Ellis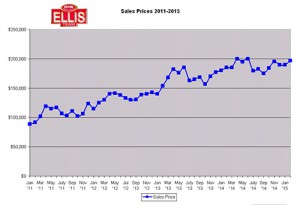 Nationally I've been reading stories about writers concern there may be another housing bubble forming. Anytime prices rise people wonder when it will peak, and anytime prices fall people wonder when it will bottom. It's just human nature. So the question is, has the SW Florida real estate market run out of stem?
Latest national statistics released this week show pending sales up 3.1% despite colder weather up North. With an improving economy and still historic low interest rates it would be hard to argue the market could cool off.
Another report suggests home prices are outpacing wages which could damper prices. This is true. Sometimes home prices rise faster on low supply, and when this rise outpaces wages eventually this can slow price growth until wages catch back up. It's not totally a supply/demand market as other economic forces will limit prices beyond simply supply.
As you can see from the attached chart, locally our prices have more than doubled in the past 4 years. SW Florida has been on a good run, so naturally people may wonder if there is a bubble forming locally as well.
The good news is we don't think so. …read more
Source:: Top Agent