By Brett Ellis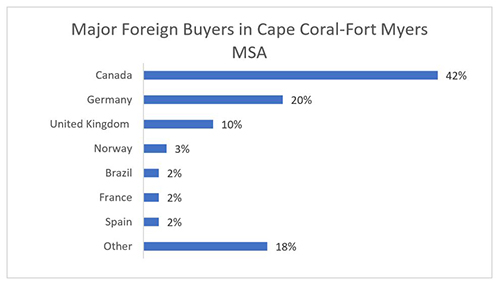 Florida International real estate sales rise 21% of total dollar volume and 15% of total sales in 2017. Both numbers were up versus 2016 numbers. This tells us that foreign buyers are here purchasing, and because the total volume is higher, they are purchasing higher than average priced homes.
So where are these Lee County foreign buyers coming from? According to the Florida Realtors profile of international real estate activity, Lee County saw the largest amount coming from Canada, followed by Germany and United Kingdom.
Florida International Real Estate Sales Rise
Just this past week the Ellis Team placed a property under contract with a Canadian buyer, and we just completed a transaction with a German owner. Over the course of time, these countries fairly well describe who buys in Lee County from overseas, but there are fluctuations.
Two factors that influence foreign buyers are the changes in currency valuations, and the home price growth from the foreign country.
The Canadian dollar hasn't moved much against the US dollar, so you might wonder why the increased interest. Canadian home prices have been sky-high. They have equity. Some say they've risen so high the bubble might burst as there is …read more
Source:: Top Agent