By Brett Ellis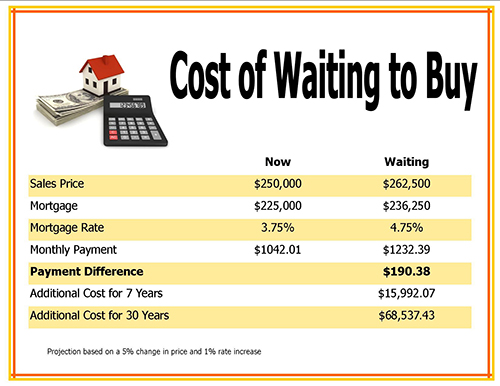 Putting off that home purchase? Perhaps you're saving up for the down payment, or you're waiting on sellers to reduce prices? That might cost you in the long run. Let's explore the cost of waiting to purchase SW Florida real estate.
In October median prices were up 6.7% and average prices were up 8.6%. These numbers are indicative of how we've been running all year, so we'll say they're legit for conversation purposes.
Cost of Waiting to Purchase SW Florida Real Estate
Let's assume home prices increase 5% going forward. That's reasonable compared to this past year. The Federal Reserve is expected to hike rates this week and the consensus is 3 times again next year. Right now, as of time of this article the Fed Funds rate is 2.1%. It's expected to climb to 2.7% in the next year and 2.9% into 2020. That's almost a 1% incline in rates.
If rates go up 1% and home prices go up 5%, it will cost a buyer about $12,500 in price which translates to an increase of $190.38/Mo in payment. Over the life of the loan that's an additional $68,537.
When people see it broken out …read more
Source:: Top Agent