By Brett Ellis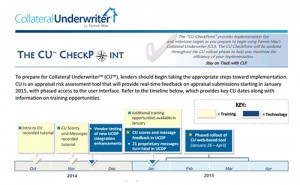 For the past year we've been harping on new appraisal issues and their affect on real estate transactions. Well, we've got another doozy to tell you about, and this appraisal ticking time bomb is set to go off January 26.
Traditionally an appraisal is performed and submitted to the bank and then the underwriter signs off on it. Before you were clear to go if the underwriter didn't ask more questions and if the adjustments didn't exceed certain percentages.
FNMA is doing away with the adjustment percentages in section B4-1.3-09 Before agents and appraisers jump up and down and celebrate beware of the new changes.
Fannie Mae is introducing a new software tool called Collateral Underwriter that essentially will produce up to 20 comparable sales ranked by risk to compare against sales the appraiser uses in their report.
After studying some of the training on FNMA's website it's apparent that we're in for a bumpy ride. I'm going to introduce you to a term called CBG (Consensus Block Group) This term will cause lenders and appraisers agita. Basically appraisers are supposed to use comparables in the same neighborhood …read more
Source:: Top Agent