By Brett Ellis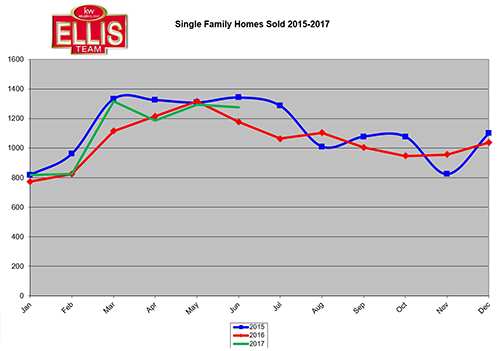 Some agents say the number of home sales is up. Some say it's down. The data show 2017 SW Florida home sales trending between 2015-2016 levels. As you can tell by the chart, home sales fell off the 2nd half of the year the past two years. Home sellers wishing to sell now might get a little nervous reading this chart, but don't be.
In fact, this can be good news for home sellers. We'll let you in on a little secret. There were 2,001 fewer listings last August than there were this February. Some sellers make the decision to sell in season because an agent told them there were more home sales in season.
It's true, there were more home sales in season. However, there were more homes to sell too. When inventory goes down home sales go down. Not because there isn't demand, but rather because product isn't there to sell.
If you're a home seller contemplating selling, the end of summer and fall can be an excellent time because you'll have less competition from other sellers.
The median sales price is up 7.6% in June over last year, …read more
Source:: Top Agent